Open Balkan in Dubai:
Čadež Invited Companies
from Albania and
North Macedonia to
Use the Serbian Business Hub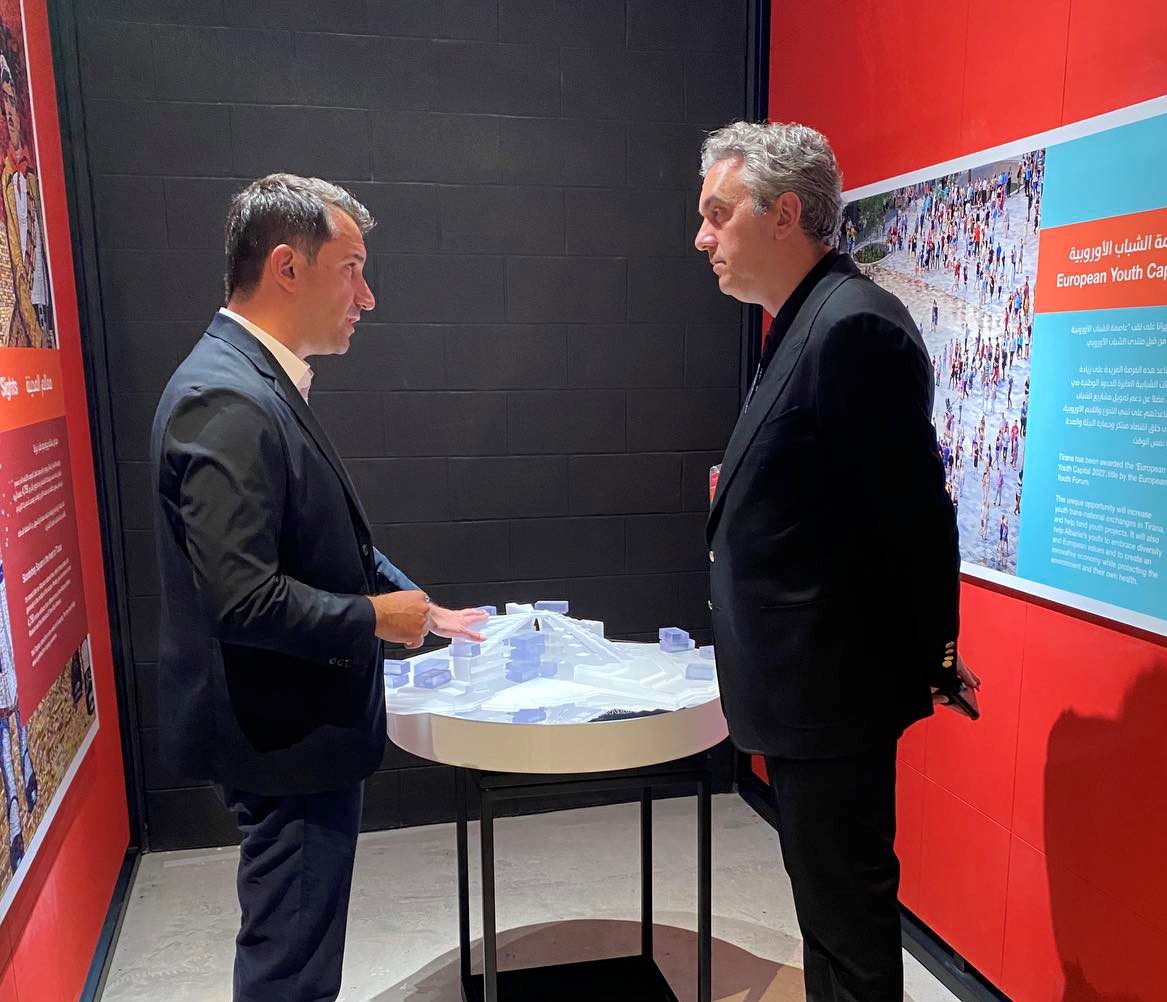 Businesspeople within the Open Balkan Initiative also connect and actively cooperate at the largest global exhibition in Dubai. The President of the Chamber of Commerce and Industry of Serbia, Marko Čadež, has discussed today with representatives of Albania and North Macedonia, and visited their pavilions at the Expo 2020 Dubai. Čadež has invited businesspeople and representatives of companies from Albania and North Macedonia, as members of the Open Balkan Initiative, to use completely free of charge the Serbian Business Hub, and with full support and assistance to make new business arrangements with partners not only from the UAE but from the entire world.
"You have at your disposal a business area of 600 square meters in the Dubai South Free Zone where a large number of global companies operate, from Ikea to the largest global producers. We will provide you with all required conditions so as to promote yourself, network and organize B2B meetings during these six months of the Global exhibition Expo 2020 Dubai. I invite businesspeople from North Macedonia and Albania to use the Business Hub as their own. This is the part of the joint Open Balkan Initiative, and in this way only can we be stronger", said Čadež when visiting the Albania Pavilion and talking to the Mayor of Tirana, Erion Veliaj.
Veliaj has expressed his great satisfaction with Čadež's visit to the Albania Pavilion, and thanked him for inviting their companies.
"Through the Open Balkan process, we have realized that we are in this together, and if we cooperate and do what we know the best, we can activate this region. Like Serbia we are also open to organize an investment conference, because we know that you have a great number of investors that are interested in our marinas. I see this visit as a fresh start for our relations, because we are practical and pragmatic, and we invest all our energy in building this cooperation. The fact that we are present at the Expo is important both for our countries, as well as for our capitals where half of our economy is concentrated", Veliaj added.
Through discussions with Bekri Ajdini, Commissioner General of North Macedonia, at Expo 2020 Dubai, Čadež pointed out the importance of the participation of our countries in this largest global exhibition.
"More than 350 businesspeople from Serbia have participated in this exhibition, some of whom have already arranged new businesses. I invite all companies from North Macedonia to take advantages of our Business Hub. We are at your disposal to help you in arranging meetings and everything needed. Since we are one region, one economy, one market", said Čadež.